Earthquake Preparedness Guide: How To Stay Safe and Survive
Provided by www.Ammo.com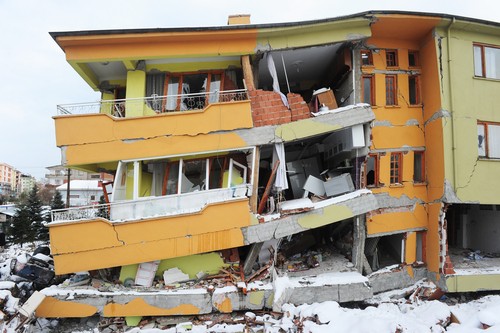 One hundred thousand earthquakes happen on average around the world every month. Not all cause damage, but it only takes one strong earthquake to kill or injure thousands of people and cause millions of dollars of damage. There is usually at least one strong quake per year somewhere around the globe. For the unprepared, the consequences can be devastating.
Are you ready for an earthquake? Are you prepared for the disruption in common services including fresh water, electricity, and healthcare? Do you have a plan and supplies to survive on your own until help arrives or services are restored?
You can protect your family and reduce damage to your property by taking action now. This guide explains how to prepare for a earthquake, answers frequently asked questions about earthquakes, provides a link to the Earthquake Notification Service, and includes a list of resources related to earthquake preparedness and hazards. Continue reading below to learn the important steps you can take to prepare for an earthquake.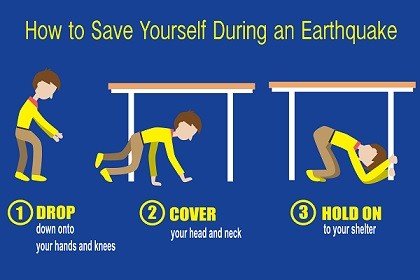 Earthquakes are the shaking, rolling or sudden shock of the earth's surface. Earthquakes are caused by the breaking and shifting of rock beneath the earth's surface along "fault lines" in the earth's crust. Earthquakes can be felt over large areas although they usually last less than one minute. Earthquakes cannot be predicted -- although scientists are working on it!
Most of the time, you will notice an earthquake by the gentle shaking of the ground. You may notice hanging plants swaying or objects wobbling on shelves. Sometimes you may hear a low rumbling noise or feel a sharp jolt. A survivor of the 1906 earthquake in San Francisco said the sensation was like riding a bicycle down a long flight of stairs.
One of the most frightening and destructive phenomena of nature is a severe earthquake and its terrible after effects. Earthquakes can cause buildings and bridges to collapse, telephone and power lines to fall, and result in fires, explosions and landslides. Earthquakes can also cause huge ocean waves, called tsunamis, which travel long distances over water until they crash into coastal areas.
Earthquakes strike suddenly, violently, and without warning at any time of the day or night. If an earthquake occurs in a populated area, it may cause many deaths and injuries and extensive property damage.
...you can find the rest of this article at www.Ammo.com
---
The Best Bushcraft Knife
by Megan Stewart | www.SurvivalSullivan.com
Bushcraft generally refers to wilderness survival skills and was initially used to describe the survival skills needed in the Australian bush country or outback. The isolated outback territory meant whatever you took with you when choosing to go on "walkabout" was pretty much all you had. You lived off what you had until you returned home or reached your destination.
Buschcraft has now become pretty much synonymous with wilderness survival regardless of your location. And whether by choice or circumstance, if you rely on only your supplies and skills to live off the land for an extended amount of time, a good bushcraft knife becomes an essential tool.
You can't just bring along any old knife and expect it to hold up to the repetitive, rugged tasks you need to perform to survive in the wild. A bushcraft knife also called a wilderness knife, is a popular style knife because it can repeatedly perform multiple tasks like dressing game, cutting tree limbs, rope, and fishing line or even some carving.
Knife blades should be 3 1/2 to 6 inches in length, longer blades are not recommended. The blade is one piece, solid, straight and does not fold up like a pocket knife. An ideal bushcraft knife will be durable and flexible enough to handle take on a variety of tasks , such as cutting limbs, drilling a hole in a fireboard, or dressing game, and still maintain its sharp edge when used day after day.
Selecting a bushcraft knife can be overwhelming with the knife choices on the market today. It functions as an extension of yourself while you are in the wilderness and needs to be able to function for any kind of hunting, food prep or even self-defense task that is needed. Invest the time in making an informed choice to select the knife to meet your needs.
While most people are aware a knife is comprised of a blade and a handle there is a bit more to understand if you are going to buy yourself a quality bushcraft knife. Knowing the basic parts of the knife will help to understand the differences between knives and help you select the right knife for you.
...you can find the rest of this article at www.SurvivalSullivan.com